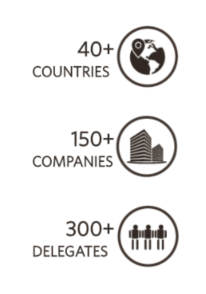 This event was held on April 9th & 10th, in beautiful Mexico City @ JW Marriott, Polanco.
Carrier Community Mexico 2018 in it's first year proved to be a magnificent event, gathering together key companies and executives from North America's wholesale telecommunications sector.
Carrier Community (CC) is a global telecom club established in 2008 and organizing annual global carrier community meetings in London since 2008 for the members. CC organized this 1st  AMERICA  congress for 2018 GCCM – Mexico City on 9th & 10th of April in JW Marriott Hotel.
Around +450 club members from 200+ telecom operators and 40+ countries representing decision makers from the Tier-1, Tier-2 and Tier-3 attended the event.
The Carrier Members got together from OTT, Data, MVNO, Voice, SMS, Mobile, VAS, Cable, Satellite, IX, ISP, Enterprise, Data Centers and other related segments
For more information about the event click here